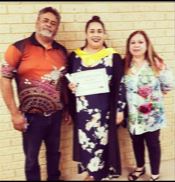 VET Student of the Year
Choose ETEA Perth for your next course and have the opportunity to be 2019 VET Student of the Year
2018 VET Student of the Year Teanne Hayden proudly wore her gown on her graduation day from the Diploma of Community Services.
Teanne was our first indigenous student to graduate and she was surprised when she was voted student of the year.
Perth staff all nominate a student they feel has abided by the student code of conduct, handed in work on time and met deadlines, performed well at placement and deserve extra recognition for their efforts. The panel then decide on a winner which is announced at the final graduation of the year.
Teanne in her response to the award stated, "I am shocked for the award (with a tear in her eye) and really want to say thanks to my teacher and the staff at ETEA who were always so helpful to me as I undertook this change in career from mining to community services (as this was my passion)".
After her placement Teanne was so asked to go for an interview for a role and secured the job at Uniting Care West and is working successfully in that role with the community.